Fond des Vaulx quarry (offices)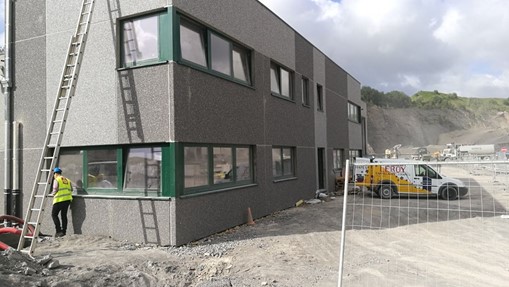 Client name : LES CARRIERES DU FONDS DES VAUX SA
Realistaion year : 2018
Collaborations :
Principal constructor : BALFROID CONSTRUCTIONS
Construction of an office building
In 2017, in parallel with the construction of the new production line for the carry, the Carrière du Fond des Vaulx comissioned CONVERGENCES to establish a building to shelter its offices, replacing the old dilapidated building.
The new construction is an extension of the « garage » building built in 2007 by CONVERGENCES for the maintenance of quarry machinery.
This madeit possible to refocus all of the company's activities on the same side of the road, thus avoiding many dangerous crossings.
The project was an interessant challenge : to integrate an extension in an identical way to the existing building, 10 years later. Successful challenge, because today no one could say that the extension is not contemporary with the initial building.
Our missions
Project Management   

Architecture /

 

Coordination Security-Health